Are you looking for an authentic accommodation ideal for your vacations in the Gard? Harmoniously established in the nature, the villages of cottages are small authentic rentals which welcome you in family, between friends or in group for simple and friendly vacations a department with multiple facets where it is good to live under the Mediterranean climate. Whether in cottages, bed and breakfasts or in houses, our rentals all have swimming pools where you can relax. On site or nearby, there is no shortage of leisure activities: swimming pool, petanque ground, walks and hikes, canoeing and kayaking. The Ardeche Gorges and many other activities are accessible from your gite rental. In the Gard as in the other departments, you will find this same welcome that echoes the spirit of our vacation rentals, you will feel at home in our villages.
Discovering tourism in the Gard in duo or group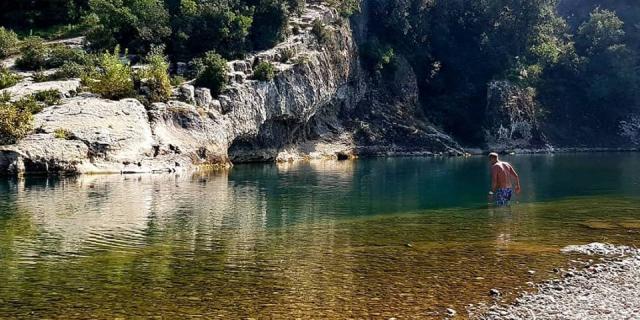 High on the vestiges of the Gallo-Roman era, the Gard is the perfect destination for a vacation rich in historical discoveries. The Romans deeply marked the history of this region and today you can visit the most famous of them like the Pont du Gard or the Arenas and the Maison Carrée in Nîmes. The Departmental Museum of Ancient Arles retraces all this history and presents magnificent archaeological collections.
The natural environment is also extremely rich and diverse, and will be the occasion of nature outings such as the visit of the bamboo grove of Anduze, hikes in the Cevennes National Park… Some natural sites are simply grandiose in the image of the Cirque de Navacelles or the Gardon Gorges. On our website, you will find the list of our gites villages that will open the doors to discover the many facets of this department: in Sabran with a view on the Cèze valley, in Collias between Uzes and the Pont du Gard, at the gates of the Cevennes, gites close to the Ardeche, others still near Alès or even less than an hour from the Camargue.
discover other Villages de Gîtes !
Nearby departments